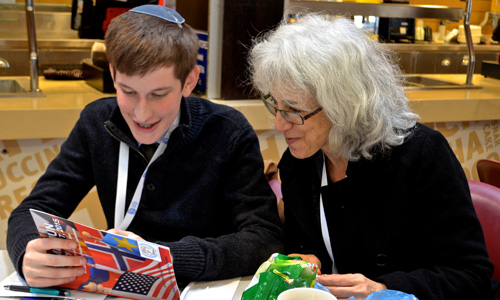 The role of the advisor is to be a teacher, a facilitator, and a confidence builder:
If you have taken on the role of the MUN advisor at your school, congratulations! You are now engaged in an educational activity of the highest order, and have an opportunity to truly affect the lives of your students.  What, exactly, does an advisor do?
Help students build and maintain confidence in their abilities, even if they are beginners.
Train students in research and public speaking skills.
Bring students to the free training sessions that are held at the American International School.  Each school is entitled to attend 3 out of 5 sessions.
Give as much responsibility for the MUN practice sessions to the students as possible. Ideally, MUN is a student-run activity, with advisors available for consultation, help in preparation, and trouble shooting.
Challenge your students both intellectually and socially. Tolerance of others' opinions is a paramount value and must always be in the forefront of the preparation.
Encourage your students to practice their English language skills before the TIMEMUN conference.
Accompany students to the TIMEMUN conference.
Free training sessions at the American School
We conduct training sessions to help delegates and advisors prepare for their roles in the TIMEMUN conference in February.
Schools are invited to three of five sessions to be held at our campus in Even Yehuda.Light snacks and drinks will be available.
Schools wishing to get additional training have three other options — Mentor Schools, AIS Volunteers and professional services such as AMBASSADOR.
Mentor Schools are schools experienced in TIMEMUN that volunteer to share time and exercises with less-experienced schools near by.
AIS Volunteers are students at AIS who have volunteered to come to schools near their homes on Sundays to help them plan and manage their MUN programs.
AMBASSADOR is a training company that offers research, public speaking, negotiations, diplomacy, rhetoric, argumentation, and Model UN skills. Ambassador offers workshops and/or weekly programs.
If you are interested in:
volunteering as a Mentor School or arranging for a Mentor School to provide training, please contact Orit Hai (ohai@wbais.net)
arranging for professional training services from AMBASSADOR, please contact Daniel Gindis (daniel@ambassadorhq.com). Their website can be found at ambassadorhq.com.
Session Schedule
Free training sessions at the American International School take place on Sundays, from 15:00 – 18:00. Each school may attend 3 out of 5 sessions. The dates of the sessions are:
October 27, 2019
November 17, 2019
January 19, 2020
February 2, 2020
How does a student prepare to be a delegate in TIMEMUN?
Before the conference, delegates should thoroughly research their country's background and general perspective, as well as its specific policies on the topics they will be debating within their respective committees.
For example, if a delegate is representing Argentina on the Disarmament Commission, she should find out about Argentina's history and current political, social, and economic situation, and what its past record has been on the issues to be discussed in the Disarmament Commission. What relevant treaties has it signed? What is Argentina doing about the issue already? What does it plan to do? Is the issue a particularly important one for Argentina, or one of its enemies or allies?
Delegates should then write a Policy Statement on their country's position on the topics. This will be presented in the form of a short speech by every delegate in front of his commission, and also aids in the research process.
Once the delegates have a clear understanding of their nation's position, they should formulate a plan of action for solving each issue. This solution can the country's official proposed solution, or an original idea (keeping within the nation's policies), or a combination of both. This "plan of action" is called a resolution, and must be written according to a certain format.This year, instead of writing entire resolutions, you will be focusing on operative clauses prior to and throughout the conference. The clauses will be then debated separately and will be added to a committee resolution after voting procedures. This change will stimulate committee discussions and will speed up the conflict resolution process. This change allows us to involve a maximum amount of delegates, and formulate the best solution possible.Prior to the conference, you will be focusing on preparing operative clauses destined to solve or alleviate the issue. In contrast with perambulatory clauses, destined to inform the committee, operative clauses directly tackle the issue by offering a solution.
This is a customized TIMEMUN search engine. When you use this search engine, you will be searching ONLY the following sources, and all the results will be dependable and authoritative:
Brookings (brookings.edu)
Center for Strategic and International Studies (csis.org)
CIA World Fact Book (cia.gov)
Council on Foreign Relations (cfr.org)
Economist (economist.com)
JSTOR (jstor.org)
RAND Corporation (rand.org)